Departments and Studies Introduction
---
During the 1st year, you will learn the basics of economics, business management and psychology.
Since the 2nd year, to acquire management skills of a new generation that meet the major changes in the social environment, you will study in 2
departments and 5 diff erent fi elds according to your interests.
Develop practical skills required in the fi eld of business through learning the "theory" of diversifying and complex modern corporate (organizational)
management and through the "practice" related to the industrial world.
Consider the SDGs which take into
account regional characteristics
Extend sports into regional resources as a culture
Create new values by making use of accumulated data

Regional Management

Sports Management

Data Management
Department of Management Psychology
Develop the ability to solve problems in the fi elds of business and childcare.
| | |
| --- | --- |
| Touch the heartstrings that drive organizations and people account regional characteristics | Useful for solving various issues related to childcare |
| Business Psychology | Children's Emotional Psychology |
Special courses for International students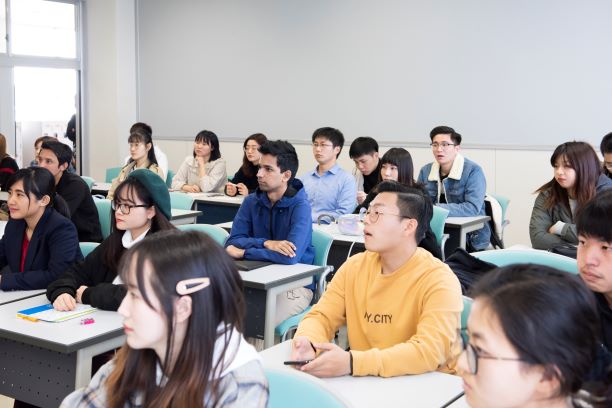 There are " Japanese Ⅰ ~ Ⅳ ",
" Written Japanese Expressions Ⅰ ~ Ⅱ "
and " Business Japanese Ⅰ~Ⅱ " courses.

Keep improving your language skills even after enrollment.
Let's aim to obtain the N1 level of JLPT while you are still studying.
---
From a variety of lectures, you can select the ones that meet your interests.

《 Fujieda Campus, 1st year Chinese student 》
| | | | | | | |
| --- | --- | --- | --- | --- | --- | --- |
| | | Monday | Tuesday | Wednesday | Thursday | Friday |
| 1 | 9:00~10:40 | BookkeepingⅠ | JapaneseⅠ | Basic Seminar | | |
| 2 | 10:50~12:30 | | Basic Environmental and Social Literacy | EnglishⅠ | | Sociological Theory A |
| 3 | 13:20~15:00 | Written Japanese Expressions1 | Basic Mathmatics | | Business History A | |
| 4 | 15:10~16:50 | | | | Computer Skills Ⅰ | Introduction to Business Management |